Urge the Senate to confirm Kavanaugh and not cave into mob rule!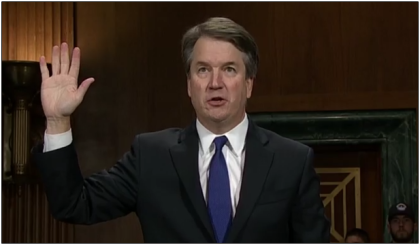 The Senate must not to cave into mob rule and instead must support confirming Judge Brett Kavanaugh to the Supreme Court.
If the Senate votes against Judge Kavanaugh it will be assenting to mob rule to take down President Donald Trump's Supreme Court nominee, Judge Brett Kavanaugh, not because of veracity of the allegations made against him or whether they could ever be proven beyond a reasonable doubt but because of the politics of the moment.
In the past, judges and justices were examined by the Senate on the basis of qualifications. Unfortunately, the current process has become purely political, with a ratcheting up of the politics of personal destruction to defeat nominees as seen in the cases of Robert Bork and Clarence Thomas.
Because of these unsubstantiated allegations, Judge Kavanaugh's confirmation has become one of the most divisive in our nation's history as a fervent mob is demanding that we destroy Kavanaugh and his entire life without any proof, beyond a single person's statement, to say he committed the actions he is accused of.
It is alarming that Senate Democrats have not already rejected the mob rule that is at the heart of the Kavanaugh opposition, and a vote against Kavanaugh would be a complete capitulation to the demand that a baseless charge with zero corroboration be considered disqualifying when weighed against a lifetime of honorable and excellent achievement.
Mob rule is no replacement for the U.S. Constitution and the cornerstone that individuals are innocent until proven guilty in a court of law. By that standard, Judge Kavanaugh is innocent of the uncorroborated allegations that have been made against him, and no reasonable prosecutor would bring a case against him based on what has been presented.
You know what to do! Let's urge your Senators to vote to confirm Kavanaugh and not cave into mob rule.
Failure to provide Judge Kavanaugh the presumption of innocence makes every future nominee subject to the same criteria where an impossible to corroborate claim from decades before is sufficient to defeat any nominee. Any thinking person knows the danger this new standard would create in attracting future leaders to serve in our government, and the Senate needs to definitively end this absurd version of Twelve Angry Men by standing up to the mob that demands Kavanaugh scalp for political purposes.
Public Comments
Oct 4th, 2018
Someone from Floral Park, NY writes:
The US Constitution need no be eroded. It is the Law of the land. A Constitutionalist is what this country needs.
Oct 4th, 2018
Wendy J. from Farmington, MI writes:
We Americans must protect our precious "Presumption of Innocence" principle now and in the future. Unsubstantiated allegations are not sufficient to declare a person "guilty" of wrong-doing. Evidence must support an allegation in order for the allegation to be believed. There is absolutely no evidence to support Dr. Ford's allegations. With no evidence in existence against Judge Kavanaugh, we must presume that he is innocent, in the U.S.A.
Oct 4th, 2018
Someone from Southampton, NY writes:
This resistance created fiasco is an embarresment to our Great Country! Confirm this innocent man and PLEASE DRAIN THE SWAMP!!!
Oct 4th, 2018
Debra M. from Denver, CO writes:
Please confirm Judge Kavanaugh and do not let the Democrats get away with this last minute ambush of a very qualified judge.
Oct 4th, 2018
Mary H. from Knoxville, TN signed.
Oct 4th, 2018
Faye O. from Charlotte, NC writes:
Please Senators confirm Judge Brett Kavanugh to the Supreme Court. Do not let the evil democrats win this one. Our country is at stake when our laws are not obeyed especially from Senators who should know better.
Oct 4th, 2018
Diana D. from Shepherdsville, KY writes:
Oct 4th, 2018
David O. from Fairfax, VA signed.
Oct 4th, 2018
Gilbert S. from Polk City, FL writes:
For once in my lifetime I pray the GOP has a spine.
Oct 4th, 2018
Someone from Inver Grove Heights, MN signed.
Oct 4th, 2018
Bill P. from Plaistow, NH writes:
Many Senators will go down to defeat depending how they vote on this well qualified Judge.
Oct 4th, 2018
Jean G. from Hamilton, OH signed.
Oct 4th, 2018
Bruno A. from Cincinnati, OH signed.
Oct 4th, 2018
Nancy (And Family) B. from West Lebanon, NH writes:
We are so sick of Democrats and others bullying conservative candidates and people in office not telling the truth and not listening to We the People! This SMEAR champagne against a fine man like judge Kavanaugh is just about the last straw.
Oct 4th, 2018
Randolph H. from Keystone Heights, FL writes:
The American people want to see Brett Kavanaugh on the Supreme Court. We need your vote for America.
Oct 4th, 2018
Roberta D. from Olympia, WA writes:
A vote to confirm to Kavanaugh ...is important to our republic, and to the future of our country, keep this in mind if you want to keep your job.
Oct 4th, 2018
Jim L. from West Chester, OH writes:
It' time for establishment republicans like you senator Portman to wake up to the enemy you and we all are up against in today's "democratic" party. They are communists, hell bent on destroying our republic an d replacing it with their own elitist, utopian oligarchy with them in charge. We must all stand up and fight !
Oct 4th, 2018
Joseph L. from Crescent, PA signed.
Oct 4th, 2018
Someone from Alpharetta, GA signed.
Oct 4th, 2018
Jean M. from Durango, CO writes:
IF YOU DO "NOT" VOTE KAVANAUGH IN..WE WILL VOTE YOU OUT...RETIRED COMBAT VIETNAM VETERAN...COUNT ON IT !
Oct 4th, 2018
Someone from Sacramento, CA signed.
Oct 4th, 2018
Sue B. from Clearwater, FL signed.
Oct 4th, 2018
Jerry L. from Douglasville, GA writes:
You know as well as I do what the Democrats are doing. I would be embarrassed if I were you. We're is the man I voted to represent me in Washington?
Oct 4th, 2018
AL N. from New York, NY writes:
*YO DEMS....THAT "BLUE WAVE?"....IS GOING 2 B FOLLOWED BY A MASSIVE "RED TSUNAMI" PERIOD!! "MAD AS HELL" PERIOD!! AL& THE BIKER VETS
Oct 4th, 2018
Someone from Trinity, NC writes:
It's time for you to do your, and vote this GOOD man in and stop with the BS. It's shameful the way you all have allowed this man's reputation to be drug thru the MUD. The democratic party has shown how low and despicable it can go and the republican party is showing how spineless they are. We so defiantly need another party in this 2 party farce we have of a government, that's the reason President Trump is where he is. Most of us are tired of all of you, and many of us will never trust you or your alphabet soup organizations you have created that have destroyed or judicial system, and our constitution playing your silly political games up there.
Oct 4th, 2018
Miriam S. from Batavia, OH writes:
In America a person is innocent until Proven Guilty. Kavanaugh was pre judged by a group that wanted him found guilty for their political gain. Do what is right and confirm him as next Supreme Court Justice. The American People Elected All Of You To Represent Us And To To Do It right. Thank you for doing that now.
Oct 4th, 2018
Mark D. from Tampa, FL writes:
Oct 4th, 2018
Carolyn R. from Kirkland, WA signed.
Oct 4th, 2018
Robert P. from Milton, FL writes:
Any senator voting against Kavanaugh's confirmation should be sent home by voters as soon as possible.
Oct 4th, 2018
Someone from Ventura, CA writes:
Feinstein should be ashamed of herself and Harris has no room to judge anyone based on her own reputation.
Oct 3rd, 2018
Someone from Valrico, FL writes:
I watched Judge Kavanaugh's hearing last week. I was shocked and stunned at the total lack of respect for the judge and the Constitution, as the Democrats fawned over Dr. Ford. Perhaps she had a terrible experience 35 years ago, but it certainly wasn't with Judge Kavanaugh! You Democrats seem to have forgotten that an Accused is INNOCENT until PROVEN guilty! There was no evidence provided even vaguely resembling proof. Yet you walked out of the hearing and DEMANDED the FBI investigate him for the seventh time! All a stall tactic to delay the vote until you could fabricate more bogus assault claims by women desperate for their 15 minutes of "fame". You sicken me! The Majority Leader has scheduled a vote for Saturday. Confirm Judge Kavanaugh or stand in the unemployment line after Election Day next month! I'm talking to you, Bill Nelson!
Oct 3rd, 2018
Brian F. from Midlothian, MD writes:
Confirm this guy or go down in flames in 7 weeks
Oct 3rd, 2018
Diane W. from New York, NY writes:
Democrats turned Kavanaugh's hearing into an embarrassing disgrace in the eyes of the rest of the world. Bullies and brownshirts!
Oct 3rd, 2018
Someone from Henrico, VA writes:
Senator Kaine, you are up for re-election next month. Confirm Kavanaugh to give me a reason to vote for you.
Oct 3rd, 2018
Larry R. from Marriottsville, MD signed.
Oct 3rd, 2018
Someone from CARROLLTON, TX writes:
Judge Kavanaugh is more than just "qualified" to become a member of the Supreme Court. Above all, I believe Judge Kavanaugh to be a protector or The Constitution of the United States when we're entering a period during which the principles of The Constitution are more important than ever to the survival of the USA and as the founders of The Constitution envisioned.
Oct 3rd, 2018
Howie M. from West Hartford, CT writes:
Senators Iwannabeprez Murphy and Lying Dick Blumenthal will certainly vote against confirmation, but hopefully the people of CT will wake up and vote them out.
Oct 3rd, 2018
Someone from Azle, TX writes:
The whole thing is a political, hate filled circus. We all know that and you'd be fooling yourself if you think its something else. Time to step up and do the right thing. Don't bow to the pressure. Emulate Pres. Trump, he takes it and lets it roll off his back. You do the same.
Oct 3rd, 2018
Walt B. from Denville, NJ writes:
You demonRATS aren' fooling anyone but yourselves. The people have had ENOUGH of your SMEAR tactics. We've seen this movie way too many times,and just so you are aware WE ARE TIRED OF THE REPEAT performances.
Oct 3rd, 2018
Glen C. from Lakeland, FL signed.