Urge the Senate to confirm Kavanaugh and not cave into mob rule!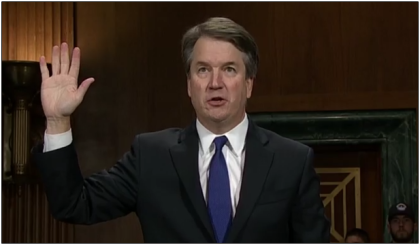 The Senate must not to cave into mob rule and instead must support confirming Judge Brett Kavanaugh to the Supreme Court.
If the Senate votes against Judge Kavanaugh it will be assenting to mob rule to take down President Donald Trump's Supreme Court nominee, Judge Brett Kavanaugh, not because of veracity of the allegations made against him or whether they could ever be proven beyond a reasonable doubt but because of the politics of the moment.
In the past, judges and justices were examined by the Senate on the basis of qualifications. Unfortunately, the current process has become purely political, with a ratcheting up of the politics of personal destruction to defeat nominees as seen in the cases of Robert Bork and Clarence Thomas.
Because of these unsubstantiated allegations, Judge Kavanaugh's confirmation has become one of the most divisive in our nation's history as a fervent mob is demanding that we destroy Kavanaugh and his entire life without any proof, beyond a single person's statement, to say he committed the actions he is accused of.
It is alarming that Senate Democrats have not already rejected the mob rule that is at the heart of the Kavanaugh opposition, and a vote against Kavanaugh would be a complete capitulation to the demand that a baseless charge with zero corroboration be considered disqualifying when weighed against a lifetime of honorable and excellent achievement.
Mob rule is no replacement for the U.S. Constitution and the cornerstone that individuals are innocent until proven guilty in a court of law. By that standard, Judge Kavanaugh is innocent of the uncorroborated allegations that have been made against him, and no reasonable prosecutor would bring a case against him based on what has been presented.
You know what to do! Let's urge your Senators to vote to confirm Kavanaugh and not cave into mob rule.
Failure to provide Judge Kavanaugh the presumption of innocence makes every future nominee subject to the same criteria where an impossible to corroborate claim from decades before is sufficient to defeat any nominee. Any thinking person knows the danger this new standard would create in attracting future leaders to serve in our government, and the Senate needs to definitively end this absurd version of Twelve Angry Men by standing up to the mob that demands Kavanaugh scalp for political purposes.
Public Comments
Oct 3rd, 2018
Someone from Fayetteville, NC writes:
Vote now or risk loosing your seat in the Senate come reelection time. End this ridiculous charade being perpetrated by the Democrats.
Oct 3rd, 2018
Someone from Rockville, MD writes:
Do the right thing and confirm Judge Kavanuagh.
Oct 3rd, 2018
W. R. D. from Poland, IN writes:
Senator Donnelly you should really vote in favor of the judge unless you care not for your seat in the Senate!
Oct 3rd, 2018
Nellene L. from Wellington, CO writes:
Oct 3rd, 2018
Nancy W. from Berkeley Heights, NJ writes:
Why aren't you looking at the past 30 years and what this man has achieved? Looking at what an individual did in high school and college is outrageous. Would you like your school years looked at and judge you by them? We all know this is a stall and downright evil. Confirm Judge Kavanaugh now.
Oct 3rd, 2018
John W. from Springfield, OH signed.
Oct 3rd, 2018
David G. from Debary, FL signed.
Oct 3rd, 2018
Nelson B. from Crossville, TN writes:
It is well past the time for those within our government begin to look like they have a brain between their ears instead of a vacuum. OK people start acting like we can be proud of you and not like some animal.
Oct 3rd, 2018
Jane C. from Edmond, OK signed.
Oct 3rd, 2018
Doreen P. from Carlsbad, CA writes:
Oct 3rd, 2018
Someone from Long Beach, CA writes:
To Senators Feinstein and Harris, Time to stop the nonsense. We are not buying any of this. It is disgraceful and deliberate on the part of Senator Feinstein to bring Dr. Ford into this fraud. It is not truthful and degrading to both Judge Kavanaugh and Dr. Ford.
Oct 3rd, 2018
Someone from Plainfield, IN writes:
Joe Donnelly, you need to do the right thing!
Oct 3rd, 2018
Randal B. from Central Point, OR writes:
Rule of Law. They are scared of the consequences of lawlessness. Rule of Law!
Oct 3rd, 2018
Christina K. from Easton, MD writes:
This honest and decent man needs to be confirmed NOW! Stop this national disgrace.
Oct 3rd, 2018
Lois S. from Mountain Home, AR signed.
Oct 3rd, 2018
Someone from Pompano Beach, FL writes:
Enough is enough this fiasco has gone on too long get the vote done up or down but get it done.
Oct 3rd, 2018
Someone from Chantilly, VA writes:
Do you job and fulfill your advice and consent role by objectively looking at his qualifications, not by how closely he aligns to your politics.
Oct 3rd, 2018
Gregg R. from SAINT JOHNS, FL writes:
You Rino's and obstructionists will be voted out if you don"t confirm Kavanaugh! American Citizens are tired of your BS! Stop trying to protect the illegal immigrants and start working for the American Citizens! !
Oct 3rd, 2018
Patricia N. from Vero Beach, FL writes:
Oct 3rd, 2018
Mary C. from Augusta, GA signed.
Oct 3rd, 2018
Someone from New River, AZ writes:
Innocent until PROVEN guilty!!!
Oct 3rd, 2018
Gail B. from Chana, IL writes:
Accusations don't prove anything, keep that in mind. This is an apparent witch hunt and anyone who participates in it should be investigated and receive due punishment.
Oct 3rd, 2018
Paul Z. from Forestville, WI writes:
NO proof of guilt, honorable person his entire life, enough political stalling tactics. Confirm!
Oct 3rd, 2018
Charles R. from Las Cruces, NM writes:
I opine that all of these so-called "witnesses" and "victims" are guilty of slander and/or perjury because their claims can not to be proven or corroborated. I am not aware of any police reports having been filed to substantiate their claims. Kavanaugh is being falsely accused and slandered by phonies.
Oct 3rd, 2018
Jacquel R. from Danville, IN signed.
Oct 3rd, 2018
Robert S. from Las Vegas, NV writes:
Vote to confirm Judge Kavanaugh or lose my vote forever! Many in the Senate could not withstand such close scrutiny yourselves. Many of you in the Senate did not believe Bill Clinton's accusers and even vilified them but now say that accusers must always be believed. Incredible! Do the right thing and don't be hypocrites.
Oct 3rd, 2018
Lela C. from Lexington, NC writes:
I don't think the testimonies against Judge Kavanaugh are creditable and in addition to me what he did in high school and college have no relevance.
Oct 3rd, 2018
Janice S. from Birmingham, AL writes:
The people of your state are watching this debacle and we will not forget if you fail to do the right thing and confirm this man to the Supreme Court.
Oct 3rd, 2018
Lucette J. from Koloa, HI writes:
"God is as able to preserve his people from secret fraud"..., which is what Judge Kavanaugh is presently undergoing, and the secret fraud against him will not prosper!
Oct 3rd, 2018
Janice H. from Bay City, TX writes:
Do your job for those who you serve!
Oct 3rd, 2018
George B. from Loysville, PA writes:
The Senate Democrat's disrespect towards the nominee, Judge Brett kavanaugh, to the Supreme Court was the worse performance of so called elected officials I have seen in my 75 years of following the political scene. Their politically partisan antics showed great disrespect for any candidate much less one as qualified as Judge Kavanaugh. This unethical show was even worse than previous Democrat politically charged displays for then nominee Bork and Supreme Court Justice Clarence Thomas. Democrats not only displayed disrespect for the nominee but embarrassed the nation in front of the whole word. They are a total reprehensible embarrassment to the country and cemented my belief that no Democrat deserves my vote this coming November.
Oct 3rd, 2018
John W. from Mount Horeb, WI writes:
I won't be satisfied until I see Kavanaughs' Nursery school and Elementary school yearbooks! I heard he over indulged on 'whole'milk and chocolate chip cookies! Surely an early indicator of his proclivities.
Oct 3rd, 2018
David L. from Owasso, OK writes:
If you cave-in to the democrats disgusting tactics now, they'll only get worse the next time...if you're still around the next time and haven't been voted out for being spineless, like Flake.
Oct 3rd, 2018
GLENN N. from Pipestone, MN writes:
Judge Kananaugh is the best qualified person that this nation has had for some time. The Democrats have issued such outlandish statements and created an atmosphere of corruption
Oct 3rd, 2018
Someone from Missoula, MT writes:
The hypocrisy evident in the Judge Kavenaugh hearing is beyond belief. That unsubstantiated accusations must be heard in a public forum specifically to play on public sympathy is untenable and beyond fathomable belief. You verbal accusations with no substantiative proof are a national and international embarrassment. If this is the new bar, then every individual representing Americans in government should be held to the same degree of public scrutiny and humiliation as accusations rather than charges are paraded out for public consumption as if due process is a reality show and not a Constitutional reality. Shame on those that reduce Constitutional rights and debase the Constitution of the United States in such a way!
Oct 3rd, 2018
Colonel W. from Jacksonville, NC writes:
As a 70 yo veteran who has put his life on the line to preserve our Constitution and the liberties it guarantees I am disgusted with the whole resist crap and the Democratic Party. I personally put love of country and our founding principles above my own life. I just wish all of our elected officials would honor the oath they took when assuming office.
Oct 3rd, 2018
Richard K. from Madison Heights, VA writes:
Such an obvious search-and-destroy mission in a quest for power. The Democrats should be ashamed of themselves. Confirm Judge Kavanaugh, and let the healing begin for him and his family.
Oct 3rd, 2018
Hilton C H. from Goodyear, AZ writes:
If you don't confirm Judge Kavanaugh you might as well kiss both House & Senate goodbye, because the Dems will win as the GOP will not come out and support some spineless Senators that just buckle at the least bit of trouble.
Oct 3rd, 2018
Gene B. from Mesa, AZ signed.
Oct 3rd, 2018
BRAD M. from Dallas, TX signed.