Let the American people decide who will choose the next Supreme Court Justice in November!
Let the people decide, not Obama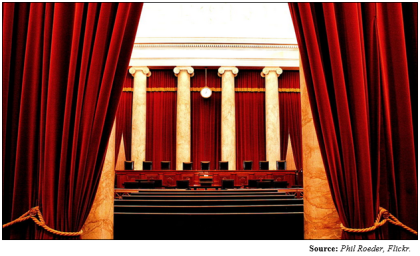 No sooner than President Barack Obama had dropped his nominee to replace the late Justice Antonin Scalia on the Supreme Court, D.C. Circuit Chief Judge Merrick Garland, and Senate Republican leaders have declared him dead on arrival.
"Co-equal authorities are throughout the Constitution, including Article II, Section 2, where the power to nominate an individual to the Supreme Court is granted to the President and authority is given to the Senate to provide advice and consent. Nowhere in the Constitution does it describe how the Senate should either provide its consent or withhold its consent," Senate Judiciary Committee Chairman Chuck Grassley (R-Iowa) said.
Grassley added, "Today the President has exercised his constitutional authority. A majority of the Senate has decided to fulfill its constitutional role of advice and consent by withholding support for the nomination during a presidential election year, with millions of votes having been cast in highly charged contests. As Vice President Biden previously said, it's a political cauldron to avoid."
Senate Majority Leader Mitch McConnell (R-Ky.) was equally emphatic. "It is a President's constitutional right to nominate a Supreme Court justice and it is the Senate's constitutional right to act as a check on a President and withhold its consent," McConnell said.
Grassley and McConnell are right. But they need your help! You know what to do! Let's urge every senator to defer confirming a new Supreme Court Justice until after a new president is sworn in and his or her selection is made.
As it is, no hearings have been scheduled by Grassley so far to consider Garland's nomination, without which there is no way for the nominee to get to the floor for any votes before Obama's term of office expires.
So long as that remains true, all Grassley and McConnell have to do is run out the clock on the nomination. They have one job. Do nothing and let the people decide in November. With your help that's exactly what they'll do — nothing.

Post Public Comments
Public Comments (835)
Apr 5th, 2017
Denise C. from Denver, CO writes:
I vote for Neil Gorsuch for our next Supreme Court Justice.
Apr 2nd, 2017
GyNiZXiubcllWkYuFMi F. from Santa Cruz, CA writes:
G4u4NM http://www.LnAJ7K8QSpkiStk3sLL0hQP6MO2wQ8gO.com
Mar 31st, 2017
gKiaSFchSX y. from Oak Ridge, PA writes:
dYAOBv http://www.LnAJ7K8QSpkiStk3sLL0hQP6MO2wQ8gO.com
Jan 4th, 2017
mary J. from San Jose, CA writes:
I don't want Obama to win, he's done enough damage to our country.
Oct 27th, 2016
Kevin M. from East Providence, RI writes:
Praise the Lord YAHWEH God for all his grace & blessings !!
Oct 27th, 2016
Kevin M. from East Providence, RI writes:
Praise the Lord GOD forever'more !!
Oct 2nd, 2016
cheryl w. from Kerrville, TX writes:
Obama is NOT AN AMERICAN!
Oct 2nd, 2016
John S. from Marlborough, MA writes:
It's time to take our country back before it's to late!
Sep 29th, 2016
MICHAEL D. from Keedysville, MD signed.
Sep 28th, 2016
Michael H. from Claymont, DE writes:
Stop this insane march to socialism and only put people who support the US CONSTITUTION on the Supreme Court - NOT sharia law!