Tell Congress to Fire the Swamp!
The Secretary of the Department of Veterans Affairs can legally fire bad federal employees much faster than other agencies. Under legislation by U.S. Rep. Barry Loudermilk (R-Ga.) and Sen. David Perdue (R-Ga.), this power would be extended to all Cabinet secretaries. Tell Congress to get it done now!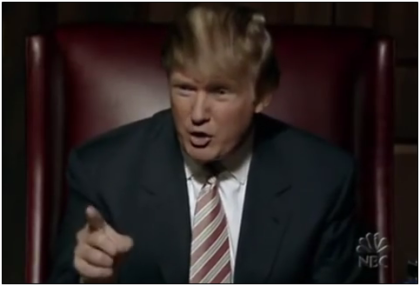 Every member of Congress should support the MERIT Act, which would expedite the removal of federal employees who have engaged in misconduct or are simply not performing, while limiting appeals to 30 days. Under current law it can take multiple years to remove an employee. A system that was initially designed to stop political manipulation of the civil service has become an unhealthy protection of bad behavior.
Many Americans wonder how civil servants at the Justice Department who abused their power still have their jobs. The reason is because of antiquated civil service protections. Congress has already managed to reform this problem at the Department of Veterans Affairs, and it's working, now it needs to be allowed to work for all the other departments and agencies to hold federal employees accountable for their actions.
This is a bill whose time has come.
Public Comments
Jul 16th, 2018
Margaret G. from Auburn, NY writes:
Without this kind of help, our government is becoming a joke. These people who are stalling the governmental process need to be fired.
Jul 16th, 2018
Barry & Tammy H. from Apollo Beach, FL signed.
Jul 16th, 2018
Joyce B. from Crocker, MO writes:
Any business worth it's salt would fire an employee who isn't doing their job or engaging in any form of misconduct. It's ludicrous that a public employee should be able to get by with not doing their job or engaging in behavior they shouldn't be engaged in. They should be fired immediately.
Jul 16th, 2018
Someone from Young, AZ writes:
Have to do this so President Trump can be free to do his job.
Jul 16th, 2018
John B. from Picayune, MS signed.
Jul 16th, 2018
Someone from Campbellsville, KY writes:
Government employees should be held accountable just like private companies employees. If they are not doing their job they should be fired with no extra benefits. If the government was ran like private companies our Country would not be billions of dollars in debt. Government employees should also have to work a full 40 hours work week not 37.50 with flex days.
Jul 16th, 2018
Ted W. from Fort Mohave, AZ writes:
Why is there 2 levels of law one politician and one the little people.
Jul 16th, 2018
Maxine K. from Hinsdale, MT signed.
Jul 16th, 2018
Someone from Alpharetta, GA signed.
Jul 16th, 2018
James R. from Marrero, LA signed.
Jul 16th, 2018
Virgil E. from Sebring, FL signed.
Jul 16th, 2018
Janey M. from Nicholasville, KY writes:
ALL government employees work for us--WE, THE PEOPLE--and should abide by the same work expectations that we must adhere to in the private sector. Those who show incompetence, unacceptable behavior, and any disrespect to this nation or their managers need to be immediately fired and all of their benefits discontinued forever. Plus, they should be barred permanently from ever holding any other government positions...forever!
Jul 16th, 2018
Terry R. from Ohatchee, AL writes:
I believe that in addition to wresting power away from unions, appointed ,and unelected employees should never have the authority to make and impose rules that have the force of law. It should remain that only elected representatives have this power and those representatives may not delegate such power and authority to un-elected government employees.
Jul 16th, 2018
William K. from Allentown, PA signed.
Jul 16th, 2018
George F. from Woodburn, OR writes:
Public and union employees have been getting away with "gold-bricking" for far too long. Something like the Merit Act is way overdue.
Jul 15th, 2018
Susan G. from Forest, OH writes:
It is hard for me as a citizen to hear of incompetence, failure to perform ones duties, and abject insubordination in any work place. I worked in the postal system and saw such behavior rewarded or overlooked frequently. It should not be so. It is also a waste of taxpayers' money. Thank you for trying to do something about this in the federal system.
Jul 15th, 2018
John C. from Dothan, AL signed.
Jul 14th, 2018
rey d. from Danville, CA writes:
As it stands, it almost takes an act of God to get a scumbag fired from a Federal job. Why should taxpayers pay the salary of scumbags who do not perform because they know they can't get fired?
Jul 13th, 2018
Arlene g. from Fontana, CA writes:
If we the people work and we do misconduct and our place of employment we get fired so why Can't We the People fire the people in Congress for misconduct we pay their salaries
Jul 13th, 2018
Norma W. from Amarillo, TX writes:
Congressman and Senators must understand they are AMERICANS FIRST before they are a Democrat or Republican, therefore we expect them to do what is good for America NOT what is good for their party. Help us get rid of the "dead weight"! We are wasting money on these people!
Jul 13th, 2018
Someone from West Brookfield, MA writes:
Accountability is needed in Washington. The bureaucracy is bloated, inefficient and corrupt. The time has come for positive change. The American people deserve better.
Jul 13th, 2018
Mary M. from Lake Orion, MI writes:
Our hard-earned tax dollar should not be used to pay keep on paying federal employees/civil servants, who display total disregard for their government positions by not performing their assignments, or who abuse and conduct themselves in a disrespectful manner. The Merit Act, introduced by Sen. David Perdue (R-Ga. will greatly help to remove the disrespectful and abusive federal employees in a much needed quicker manner.
Jul 13th, 2018
Louis B. from Hilton Head Island, SC writes:
You can achieve excellence in anything unless excellence is both expected and rewarded. You will achieve less than mediocrity unless poor performance is discourage and disciplined. Those who perform well should see their salaries and prospects for promotion rise. Those who perform poorly should see their advancement halted, salaries remain the same and absent improvement within a reasonable time, their employment terminated.
Jul 13th, 2018
Janice D. from San Antonio, TX writes:
If we get fired for misconduct then so should government employees, this includes members of Congress. What rules apply to me should also apply to thee.
Jul 13th, 2018
Someone from Topeka, KS writes:
No other sector would allow misconduct without dismissing the employee. No way should our tax dollars go to any civil servant who has engaged in misconduct if proven during an investigation.
Jul 13th, 2018
Mary C. from Maryville, TN signed.
Jul 13th, 2018
Someone from Oro Valley, AZ writes:
Federal employee's should not have any more protections than normal employee's outside the federal GSA system. Not doing their job(s) then time to get rid of them and let them find a real job.
Jul 13th, 2018
Someone from Sandpoint, ID writes:
Does Trump have to do everything??? Congress, pass the MERIT Act!!! Prove to the voters that you all have a backbone!
Jul 12th, 2018
Someone from Anchorage, AK writes:
Anything but merit stinks - like government.
Jul 12th, 2018
Norm P. from Wilton, CA writes:
It is time to change this corrupt system. Please vote for this common sense solution.
Jul 12th, 2018
Carol H. from Seaside, OR writes:
Referring to the many years I worked in both public and private enterprises, all employees were hired, promoted or released based on merit. I have always believed that this particular model provides the most qualified employees who will benefit the company or government agencies.
Jul 12th, 2018
Rita T. from Richland, WA signed.
Jul 12th, 2018
John B. from Canon City, CO signed.
Jul 12th, 2018
Timothy F. from Orange Park, FL signed.
Jul 12th, 2018
David N. from Monrovia, CA writes:
All deadbeat employees in any profession should be able to be fired easily and replaced with productive employees who care about doing a great job.
Jul 12th, 2018
Robert P. from Toms River, NJ signed.
Jul 12th, 2018
Someone from Eau Claire, WI signed.
Jul 12th, 2018
Someone from Alpharetta, GA writes:
START using my hard-earned tax dollars WISELY!!!
Jul 12th, 2018
Tom J. from Saint Louis, MO writes:
The Civil Service Act was never intended to create a class of permanent government employees, answerable to no one at all, only to protect them from political retaliation. We're long past that.
Jul 12th, 2018
Simon S. from North Chesterfield, VA writes:
When are we going to have a government for the people?