Tell Congress you support Attorney General Jeff Sessions!
Sessions is restoring the constitutional rule of law.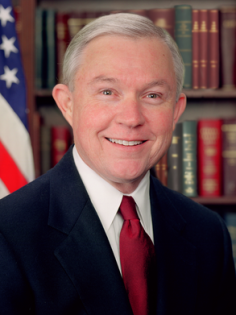 President Donald Trump originally nominated Attorney General Jeff Sessions in order to affirm the constitutional rule of law, and that is why the D.C. swamp now wants to get rid of him.
Sessions is restoring law and order along our nation's borders and enforcing U.S. immigration laws. As a result, illegal immigrant border crossings are dramatically down in 2017.
Sessions is ending Obama's war on police and has called for an immediate review of the consent decrees the Department of Justice Civil Rights Division entered into with liberal city governments. These consent decrees are handcuffing police in our largest metropolitan areas from cracking down on crime.
Sessions has shut down the Department of Justice's third-party settlement slush fund, where left-wing activist groups were receiving millions of dollars of funds from settlements against Bank of America and other Obama administration litigation targets.
And now Sessions needs your help to expose the deep state's ongoing illegal surveillance and leaks to the media against President Trump.
You know what to do! Let's urge Congress to support Attorney General Sessions against these baseless attacks by Obama administration holdovers and the liberal mainstream media.
The establishment in Washington, D.C. is waging a relentless campaign against not just the Trump administration, but the right of the American people to determine who represents them in government, and President Trump is going to need principled men like Sessions at his side to drain the swamp. Let's support Sessions!
Post Public Comments
Public Comments (3,533)
Jan 16th, 2018
flfjcfiv t. from San Francisco, CA writes:
Jan 16th, 2018
Someone from San Francisco, CA writes:
Jul 27th, 2017
Glenn W. from Baytown, TX writes:
Stand your ground, Att. Gen. Sessions! You are a hero to me! He's afraid to fire you and trying to scare you into resigning ! Your ethical stance is what our nation needs!
Jul 6th, 2017
Joseph S. from Franklinton, LA writes:
The consent decrees that are in force now appear to be weakening the police forces in the cities in their enforcement of the law and contributing to the rise in violent crime today.
Jul 1st, 2017
Tedd M. from Palos Heights, IL writes:
Jul 1st, 2017
Edwin E R. from Bird City, KS writes:
Jun 24th, 2017
Brandon L. from New Iberia, LA signed.
Jun 21st, 2017
NJ W. from Berkeley Heights, NJ writes:
Keep up the good work. We have needed someone like you for a long time.
Jun 21st, 2017
JOHN B. from Rosemount, MN writes:
Do your job, instead of trying to create FAKE news/stories. We are sick and tired of RINOS, and others not doing your job. 95% should be fired for not doing your jobs.
Jun 20th, 2017
Michael B. from Texarkana, TX signed.