Urge Congress to pass last, best chance at repealing and replacing Obamacare!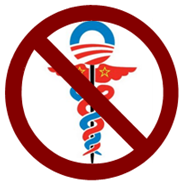 We are encouraged that the Senate is close to passage on the Cassidy-Graham bill, which is the last best chance for Republicans to keep their basic promise to repeal and replace Obamacare. It ends the noxious individual mandate that compels people to purchase health insurance. It ends the employer mandate which discouraged employers from hiring full-time employees. It increases flexibility for the states and respects them through its common-sense block grant formula, giving state legislatures a key role in offering lower-cost health insurance alternatives to their citizens.
Importantly, states are also empowered to apply for waivers from Obamacare regulations, allowing insurers to offer similar lower-cost alternatives to consumers.
The Cassidy-Graham proposal is a step in the right direction and Congress must not miss this opportunity to act this year on keeping its promise.
You know what to do. Let's urge members of Congress to get it right this time and get legislation that ends most of Obamacare onto President Donald Trump's desk this year. If Congress acts by Sept. 30, the provisions will take effect immediately.
We have to keep fighting. This has a real chance of passing and we really need your help.
Public Comments
Sep 19th, 2017
Carol W. from Lemont, IL writes:
Do it for the America and ALL her people who put you in office to speak for us.
Sep 19th, 2017
Someone from Lakeside, AZ writes:
Counting on you to get the job done
Sep 19th, 2017
Someone from Eagle River, AK writes:
It is time for action and to keep your promises that got you into office.
Sep 19th, 2017
Margaret L. from Far Rockaway, NY signed.
Sep 19th, 2017
Denise R. from Campbellsville, KY writes:
It is time to do what you promised. Repeal the broken and burdensome Obama Care. It should have never been passed and must go now. Stand up for what is right!
Sep 19th, 2017
Betty andElmer H. from Eustis, FL writes:
Sep 19th, 2017
H L. from Ephrata, PA writes:
It's time to do what is best for OUR country! You and the President were elected to fulfill your promise to those who elected you to office (your job). Time to stand tall and do what is right! For too many years you told us what was/is right. Support OUR President!!!!
Sep 19th, 2017
Ken S. from Conway, AR writes:
Chance that the republicans in congress will do anything on repeal and taxes is between 0 and 1%. Republicans have their ego and that takes is all they think about +$ not the people and country
Sep 19th, 2017
Robert G. from Lithia Springs, GA signed.
Sep 19th, 2017
Frank d. from Centennial, CO signed.
Sep 19th, 2017
Bruce H. from Omak, WA writes:
ObamaCare.. loved by thousands, hated by millions!
Sep 19th, 2017
Joseph C. from Keller, TX writes:
Republicans in Congress have failed to abide by their election campaign promises to COMPLETELY repeal and replace Obamacare! They asked for control of both the Legislative and Executive branches of government, the electorate gave that to them, and Republicans in turn double-crossed their voters. If Republicans fail to pass any repeal legislation before the end of September, I, and many other voters, will campaign vigorously to have those who are up for re-election PRIMARIED and defeated!
Sep 19th, 2017
Jerry K. from Hayward, WI signed.
Sep 19th, 2017
Someone from Rancho Cucamonga, CA writes:
KILL OBAMA CARE AND REPLACE IT NOW ! !
Sep 19th, 2017
Thomas J. from Arnaudville, LA signed.
Sep 19th, 2017
Virginia E. from Meridian, ID writes: