Stop Mexican cheating on NAFTA and enforce U.S. law!
President Trump needs your help to implement his trade agenda.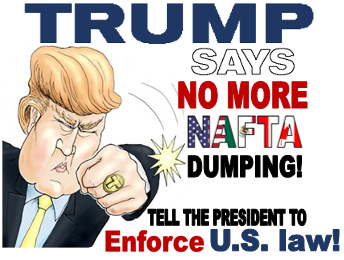 Now more than ever, President Donald Trump needs your help to defend his agenda that got him elected in 2016, particularly on bad trade deals like NAFTA.
Mexico has been found in violation of antidumping rules by the U.S. International Trade Commission in 2015 for dumping sugar on U.S. markets illegally since 2008. President Trump has been clear that he is going to enforce U.S. law while renegotiating or ultimately leaving NAFTA on behalf of the U.S. economy and American workers.
You know what to do! Let's call 202-335-1171 and urge the U.S. Commerce Department to help President Trump keep his promise to enforce U.S. law and stop Mexican sugar dumping cheating on NAFTA, leveling tariffs if necessary, and then send the letter below!
There can be no better time for the President to make this clear to the Mexican government that the dumping must stop either through a negotiated settlement or through countervailing duties.
Trump has the chance to bring Mexico into compliance with U.S. law and stop its illegal sugar dumping.
This is the perfect opportunity for President Trump to prove that what it will take to protect American jobs is through tough trade enforcement. It is time to ensure that America's trading partners know they cannot violate U.S. trade laws without consequence.
Public Comments
Jun 4th, 2017
Someone from Grand Rapids, MI writes:
AMERICAN CITIZENS FIRST - build the wall - secure it, patrol it, defend it and jail all who violate our borders. Kill or renegotiate all trade agreements that favor other nations first and give them the advantage over the USA. Give our men and women in military uniforms a 5%-10% raise on their incomes and give them the best equipment available to defend and fight anywhere in the world. Give Social Security recipients a long overdue pay raise of 5%-7%. Tell OPEC and BIG OIL to go "F" themselves and tell them here's what we're gonna pay for oil - and if you don't like it - we'll send in troops and seize the oil fields and make them USA national interest property.( there's enough oil in the ground to keep the world supplied for another 500 years without ever making a dent in the supply) Last - ( i could keep going for pages ) send out the wet work spook mercenaries and end the Clinton's / all three of them. Enough is enough when it comes to that filthy corrupt evil family.
Jun 4th, 2017
Someone from Beverly Hills, CA writes:
Sugar!? What about heroin ,cocaine,marijuana,meth? And where is Mexico's help? They could start by raising minimum wage , so there people dont jump the border, and they wouldn't if there President cared! Real humanitarian..thanks for the help mexico..and this is the craziest one , why is there a training facility for isis 30 miles outside juarez mexico? Yea , look it up on google, the justice department put it out 5 yesrs ago, nuts ! Thx mexico for helping us? The mexican people are great people also, you ever think maybe they wanna stay home? I'd jump the border also if i was making 1.50 to 2.00 an hour, wouldn't you? Hello leaders of mexico can you help your people? And by the way there's 20 million undocumented people in the us, dont be fooled...i thought sugar was suppose to be sweet?
Jun 4th, 2017
Someone from San Antonio, TX writes:
Jun 4th, 2017
Jimmy L. from Upper Marlboro, MD writes:
Thank you for your hard work , we support you all the way.
Jun 4th, 2017
Roger S. from San Francisco, CA writes:
Thanks to President Trump for enforcing US law that promotes the expressed will of the American people rather than ignoring US law or using it to penalize the American people in pursuit of policy that circumvents or opposes the will of the American people as the liberals and RINOs do. How refreshing to find the POTUS supporting the will of the people rather than ignoring or opposing it as did the Muslim/ Commie-in-Chief. Nice to feel the wind of Liberty blowing on my face again instead of the dead air from the elite, political class barking lies and deception. Just so unbelievably refreshing!!!
Jun 3rd, 2017
Someone from Brookfield, WI writes:
I believe any country in violation of the NAFTA Agreement should pay the consequences.
Jun 3rd, 2017
Fortunato P. from Lubbock, TX writes:
Thank you for your service and concern for our country Mr. President. Help those countries to keep their side of the deal
Jun 3rd, 2017
Someone from Carrollton, TX writes:
NAFTA is not fair for citizens of the United States or citizens of Mexico. Help Mexicans get the chance to build a life farming their own lands.
Jun 3rd, 2017
Olga D. from Mc Lean, VA signed.
Jun 3rd, 2017
Donald N. from Lancaster, CA writes:
I stand behind our President's decision on the Illegal actions by a foreign state,Mexico.They need to be held accountable for their illegal activity.
Jun 3rd, 2017
Someone from Warwick, RI writes:
MAKE AMERICA GREAT AGAIN!!! Go Mr. President!!!
Jun 3rd, 2017
Someone from Miami, FL signed.
Jun 3rd, 2017
Carol C. from Eau Claire, WI writes:
America first! That is the duty of any American president. We finally have one and may God give him strength to not back down from that mindset.
Jun 3rd, 2017
Mike L. from Memphis, TN writes:
1) Build the Wall 2) End NAFTA 3) PUSH CONGRESS FOR A 20% WIRE TAX FOR ALL FINANCIAL TRANSACTIONS TO MEXICO TO FINANCE SAID WALL 4) IT IS TIME TO MODERNIZE YOUR SOCIAL SECURITY CARD. PHOTO ID. ADDRESS. FINGERPRINTS REQUIRED TO APPLY FOR AND MORE IMPORTANTLY FINGERPRINT VERIFICATION BEFORE ANY CHECKS CAN BE RECEIVED BY SAID PERSON. This will discourage and deter ID theft 5) REQUIRE NEW SOCIAL SECURITY CARD TO BE USED BY ALL AMERICANS IN FEDERAL ELECTIONS. IT HAS YOUR ADDRESS ON IT. THIS WILL PREVENT PEOPLE VOTING OUT OF DISTRICT 6) End state income tax deductions against federal income taxes. This will discourage states like California and New York from increasing state income taxes. This will put pressure on states to lower income taxes not increase them at the cost of the federal government
Jun 3rd, 2017
Will M. from Saxapahaw, NC writes:
It is important that any entity that takes advantage of the American people is held accountable to the American people. Pursue your agenda without care for tradition!
Jun 3rd, 2017
Deborah C. from Woodbridge, VA writes:
You know what is right from wrong, you know this is so wrong. If anybody can do it, it's you Mr. President.
Jun 3rd, 2017
loisanne k. from Staten Island, NY signed.
Jun 3rd, 2017
Someone from Ridgewood, NJ writes:
Please stand strong for America and we will stand up for you and with you! America is only as great as our leaders. God bless you, you family, Mike Pence and his family and all those real Americans that stand with you and for America and Americans. MAGA!
Jun 3rd, 2017
Someone from New York, NY writes:
I absolutely support your efforts on this subject President Trump as well as illegal immigration.
Jun 3rd, 2017
John K. from Pawleys Island, SC writes:
Get rid of Ryan, Graham, and McCain. they are nothing but traitors to the American people.
Jun 3rd, 2017
Constance S. from Winchester, VA writes:
We are behind you 100% and pray for you, the First Lady, your entire family, Vice President Pence and his family, and your entire Cabinet and their family each day. Without God's help we cannot MAGA so let us us keep Him first in all our lives.
Jun 3rd, 2017
Diann R. from Richmond, TX writes:
Dear President Trump, I love you. God raises up great men like you for such a time as these. May God greatly bless and protect you.
Jun 3rd, 2017
Ronda O. from Bonneau, SC writes:
I fully support President Donal Trump in his determination to protect United States, American workers and US economy, WHATEVER IT TAKES.
Jun 3rd, 2017
William D. from Binghamton, NY writes:
Stand strong for us Mr President. And we will stand strong for you. Fine job you are doing.
Jun 3rd, 2017
andrew m. from Sunderland, MD signed.
Jun 3rd, 2017
Suzanne C. from Pittsburgh, PA writes:
While you are in Mexico enforcing the law on sugar dumping you just might want to take the opportunity and swing around to the border patrol. The border patrol is getting a liile antsy regarding the catch and release policy. Nothing changed. Keep your promise and do not let the law enforcement officers erst down.
Jun 3rd, 2017
Someone from Pioneertown, CA signed.
Jun 2nd, 2017
Jake D. from Ashburn, VA signed.
Jun 2nd, 2017
Carolyn E. from Woodhaven, MI writes:
Thankyou Mr. President for having the American people's back and showing globalist's we know what they are up to. Take back America for "we the people"!!!!
Jun 2nd, 2017
joe m. from Rome, NY signed.
Jun 2nd, 2017
George V. from Beverly Hills, FL writes:
President Trump just keep doing what you're doing and know that I and my extended family & close friends,(73 of us), are ALL behind you 100%!!!
Jun 2nd, 2017
Someone from Highland Lakes, NJ writes:
President Trump, you don't need me to tell you what to do, keep up the good work and know that there are millions out here that have your back.
Jun 2nd, 2017
Lorraine H. from Vero Beach, FL writes:
We need to stop all countries that are in the habit of taking advantage of this country and the US not doing anything to stop them!! Keep up the good work President Trump.
Jun 2nd, 2017
Willie Ree A. from Alma, GA signed.
Jun 2nd, 2017
KATHLEEN W. from Milton, KY writes:
Jun 2nd, 2017
Mary B. from Charlottesville, VA writes:
I support you as you work to represent us! And I thank you!
Jun 2nd, 2017
Charlie O. from Boonville, IN writes:
Please stand Stong!! We the People (at least those of us that have any sence) stand with you!
Jun 2nd, 2017
Someone from Layton, UT writes:
Jun 2nd, 2017
Richard P. from Tucson, AZ signed.
Jun 2nd, 2017
David K. from Sturtevant, WI writes:
Ross Perot, said NAFTA was a bad deal for us before Bill Clinton put it through. It needs to be taken care of. He was right and nobody listened.